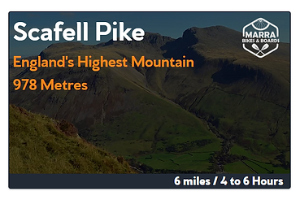 Climb England's Highest with our Mountain Leader, Rob.
This is a group hike which will give you the opportunity to meet like-minded people and perhaps visit the Wasdale Head Inn afterwards, to compare stories and sample a local ale.
This hike suits all abilities and dogs are welcome as long as they are well behaved and don't have a tendency to chase sheep (or Mountain Leaders).
As you climb you will be witness to sensational views across the Wasdale valley. Our leader will keep you entertained with history and factual information about the mountain and the valley.
We meet in the National Trust Car Park at 10am where our leader will provide a safety and kit check. Shortly after this you will begin the ascent where the famous Wast Water begins to look smaller and smaller and is eventually combined with views of the Irish Sea.
When you summit the Pike there will be time for photos of your amazing surroundings and to know that the climb is over. You'll then head back down the mountain where you'll face an incredible vista.